"The System makes the difference"

Consul Lifts have been manufactured in Germany since 1953.

They are of the highest quality and manufactured with exceptionally stiff rolled steel posts. This strong design offers a very small footprint to the post allowing wider spacing of the posts themselves hence making more room for opening the car doors.

All the lifts are all fitted with low-profile arms so there is no need for special adaptions for sports cars or cars with low sills etc. The unique design of the roller guided lift carriages means there are no guides to wear and the unique arm supports are exceptionally solid. Safety devices include automatic arm locks, a mechanical locking device in the event of load nut failure, acoustic foot protection and a chain break mechanism where appropriate.

Note : No Baseframe : This lift has no supporting baseframe so no steelwork on the floor between the posts.



Product description : Model 48400.6
"All you need for lifting" This multi-purpose two post lift is your everyday two post lift with the added bonus off being base-free. Loved by main dealers and garages around the UK because of the empty floor-space between the posts. Moving of toolboxes, transmission jacks and oil drainers etc; is a simple task. The sychronisation system for the two drive motors can be by overhead bridge, or if preferred recessed into the concrete floor. Asymmetric in design "drive on - reverse off".
Lifting capacity of 3000kgs.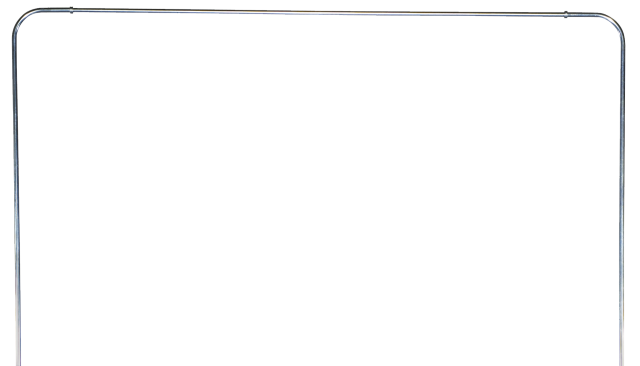 Note : On this lift, the Cable Bridge for synchronisation
can be installed above or below the concrete floor***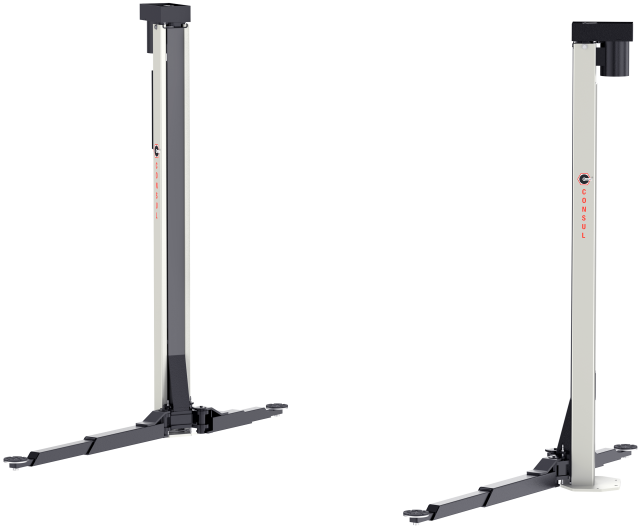 Design features:
Electronically synchronized columns made of special rolled profile
Columns turned by 30° (improved angle for door opening)
Short swivel arms movable from both sides
Bronze alloy load nut / cast alloy safety nut
Carriage equipped with 4 maintenance-free roller bearings
Broken nut raise lock-down feature
Covering of post interior
Acoustic foot protection
Cushioning door stop, adjustable pick-up plate (approx. 25 mm)
Lockable operating device with reversing contactor
Automatic arm locking device with manual release function
Protection class IP 54, GS-approved, DIN EN 1493, CE-approved
Dimensions :
Lifting Capacity
kg
3.000
A. Lifting height
mm
2.005*
B. Overall height of post installed


Note :

Overall height of overhead bridge
mm
mm
2550
4.030

C. Overall external width when installed
mm
3315
D. Drive-through width between carriages
mm
2320mm
Front arms are 2-piece as standard
E. Length of front arms closed
F. Length of front arms, fully extended
Rear arms are 2-piece as standard
G. Length of rear arms closed
H. Length of rear arms, fully extended

mm
mm

mm
mm
560
760

830
1330
I. Lowest pick up point height
mm
approx. 85

**

J. Clear distance between upright columns
mm
approx. 2.650
Lifting / Lowering time(s)
Motor(s) fitted
secs
kW
approx. 50
2 x 2.5 kW motors
Power supply (3-ph elec.)
V/Hz
400V / 50Hz
Fuse protection (elec.)
A slow-blow
20 amps

* Lifting heights only reachable with optional accessories
** Lowest swivel-in heights reachable with optimal floor conditions
*** If the cable bridge is fitted below floor, customer will be required to carry out civil works
Various lifting pad heights

Pt No : 37553.5 Spacer Holders




Optional height spacers for lifting pads :
Various heights available, ideal when lifting 4 x 4 vehicles or vehicles with high ground clearance.
Part No 39734.9 - 35mm
Part No 56593.7 - 50mm
Part No 56594.5 - 100mm
Part No 56595.2 - 150mm
Part No 56596.0 - 200mm

Optional Spacer holders : Part No 37553.5 - 1 Set = 4 pieces