"The System makes the difference"

Consul Lifts have been manufactured in Germany since 1953.

They are of the highest quality and manufactured with exceptionally stiff rolled steel posts. This strong design offers a very small footprint to the post allowing wider spacing of the posts themselves hence making more room for opening the car doors.

All the lifts are all fitted with low-profile arms so there is no need for special adaptions for sports cars or cars with low sills etc. The unique design of the roller guided lift carriages means there are no guides to wear and the unique arm supports are exceptionally solid. Safety devices include automatic arm locks, a mechanical locking device in the event of load nut failure, acoustic foot protection and a chain break mechanism where appropriate.

Note no Base-frame : This lift has no supporting base-frame so no steelwork on the floor between the posts.
Consul Premium Range
The Premium range is ideal for main dealers and prestige workshops offering a combination of flexibility, ease of use and ruggedness. The lifts have bronze load nuts with automatic oilers giving exceptional longevity, load nuts typically last over 15 years. The lifts have push button controls, programmable limits and microprocessor controlled levelling system. Many of the Premium range of lifts have 3-piece lift arms allowing a wide range of vehicles to be lifted, this larger model is fitted with four three piece arms and will lift a Smart Fortwo and a long wheelbase Sprinter.
Product description : Model 46155.8
This multi-purpose two post lift is one of Consuls largest two post lifts. Due to its clever design and strength of construction it can lift 5500kgs with the greatest of ease. For someone wanting a professional lift in their workshop it will lift the smallest Smart car to the largest vans, even the VW Crafter RS3 or MB Sprinter with long wheel base of 4.325 mm.
More and more garages are buying larger capacity lifts to lift the longer wheelbase vans, in most cases the workshop requires a lift for vans and a lift for cars? Not with this lift, with its very low arm design and pick-up pad height of only 100mm as standard lifting cars and vans with the same lift is extremely easy.
These lifts are fitted with four piece extending arms, brakes on the motors and electronic levelling systems for maximum performance and safety.
Recommended for all garages with a diverse range of vehicles.
The sychronisation system for the two drive motors can be by overhead bridge, or if preferred recessed into the concrete floor. Symmetrical long 4-piece front and rear arms.
Lifting capacity of 5500kgs.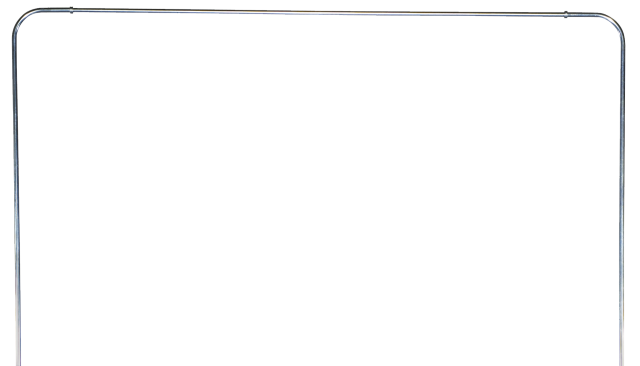 Note : On this lift, the Cable Bridge for synchronisation
can be installed above or below the concrete floor***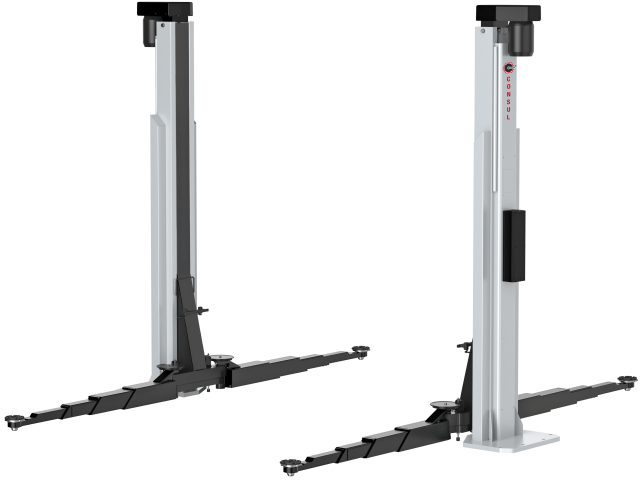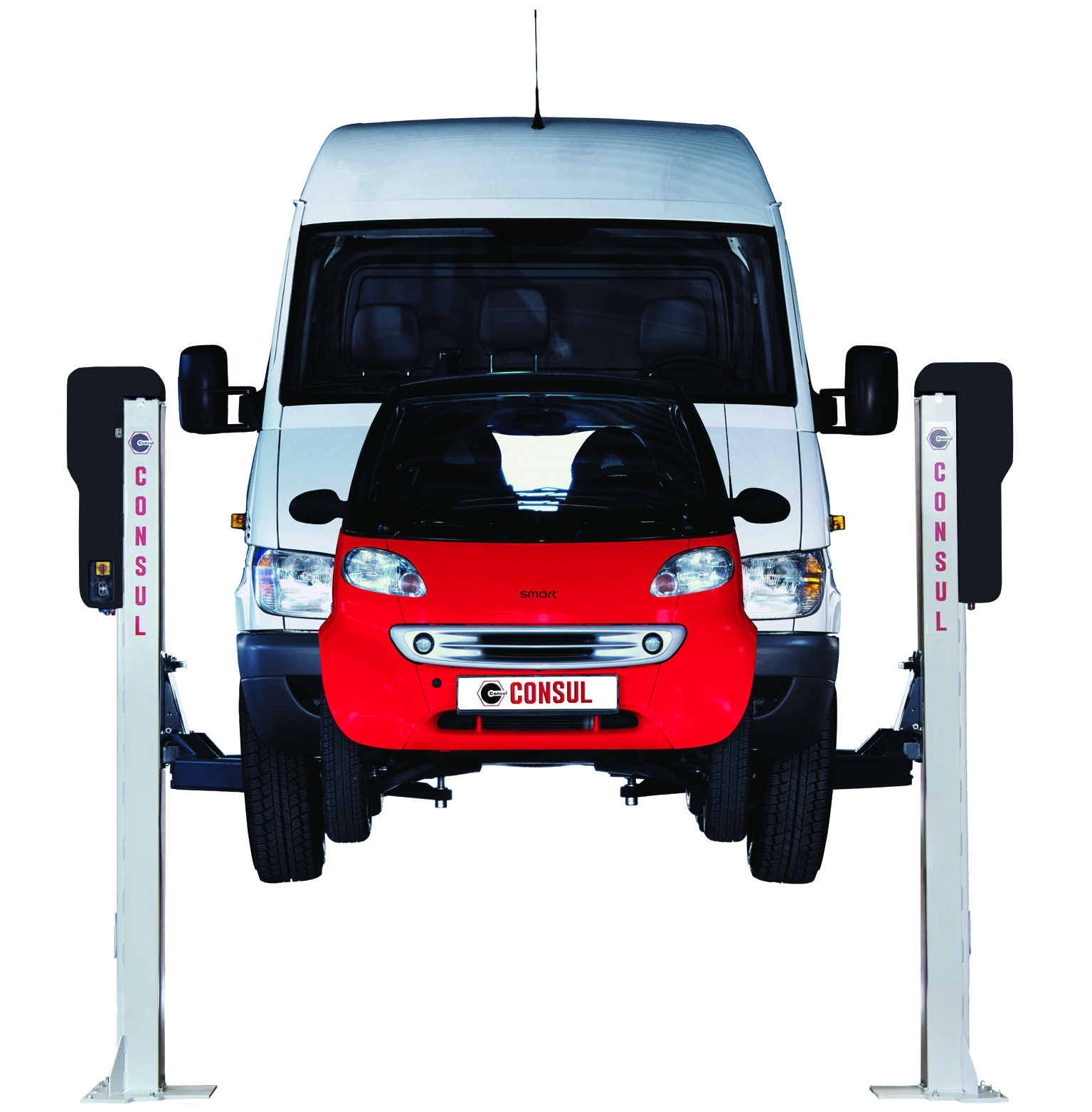 Design features:
Special rolled section columns
Installation rectangular to drive-on direction
Carriage guided by 6 rollers
Bronze load nut / cast alloy safety nut
Oil dispenser for supporting lubrication
Broken nut raise lock-down features
Acoustic foot protection
Softline push-button control with computer guided leveling system
Lockable main switch directly on the post
Complete covering of post interior
Cushioning door stop, adjustable pick-up plate (approx. 25 mm)
Arm locking device (easily adjustable), locking at 300 mm
Optional: Self supporting base frame available.
Protection class IP 54, GS-approved, DIN EN 1493, CE-approved


Dimensions :


Specifications:
Lifting Capacity
kg
5.500
A. Lifting height
mm
1.940*
B. Overall height of post installed


Note :

Overall height with overhead bridge
mm
mm
2.900
4.370

C. Overall external width when installed
mm
3.600
D. Drive-through width between carriages
mm
2.360
This lift is fitted with 4-piece arms as standard
E. Length of front arms closed
F. Length of front arms, fully extended
G. Length of rear arms closed
H. Length of rear arms, fully extended


mm
mm
mm
mm

830
1.675
830
1.675
I. Lowest pick up point height
mm
approx. 100

**

J. Clear distance between upright columns
mm
approx. 2.730
Lifting / Lowering time(s)
Motor(s) fitted
secs
kW
approx. 45
2 x 5,0 motors
Power supply (elec.)
V/Hz
400 / 50Hz
Fuse protection (elec.)
A slow-blow
25 amps

* Lifting heights only reachable with optional accessories
** Lowest swivel-in heights reachable with optimal floor conditions
*** If the cable bridge is fitted below floor, customer will be required to carry out civil works
Optional Lift Accessories :




Pt No : 37553.5 Spacer Holders

Various lifting pad heights

Height spacers for lifting pads :
Various heights available, ideal when lifting 4 x 4 vehicles or vehicles with high ground clearance.
Part No 39734.9 - 35mm Part No 56593.7 - 50mm
Part No 56594.5 - 100mm Part No 56595.2 - 150mm
Part No 56596.0 - 200mm

Spacer holders : Part No 37553.5 - 1 Set = 4 pieces




Part No 55378.4 Consul FixLift support, SURCHARGE 1 set = 4 pieces, adjustable height range 80 - 245 mm Suitable for 2.30 Classic & Z230 Original.
Part No 52060.1 Special pick-up adapter for Ford Transit for all 2-post lifts with a
capacity up to 4.000 kg.
(1 set contains: 4x adapters for Ford Transit, 4x spacers 60 mm).
Part No 52012.2 Special pick-up adapter for VW Amarok for all 2-post lifts with a
capacity up to 4.000 kg. (1 set contains: 2x adapters front axle, 2x adapters rear axle).
Part No 52011.4 Special pick-up adapter for Sprinter/Crafter for lifting at point A and
C according to the manufacturers guidelines. For all 2-post lifts with a capacity up to
4.000 kg. (1 set contains: 2 x adapters front axle, 2 x adapters rear axle).
Part No 56794.1 Special pick-up adapter for off-road MB for 2-post lifts with a
capacity p to 4.000 kg. 1 set contains 4 x prism-adapters for off-road MB.