Cascos Lifts have been manufactured in Spain since 1965.

The owner then was Carlos Cascos who gained his technical expertise working in the local factories of Volkswagen and Mercedes.

The experience gained working at these factories encouraged the high quality German standards seen in the Cascos products of today.

All of Cascos four post lifts platforms are manufactured utilising the design of a steel lintel underneath with a one-piece platform on top.

This design is testament to the high quality and long term reliability of the Cascos four post lift and is the ultimate choice for you.

Certificated to the highest Standards






Cascos C-443XL Model Four Post Lift.
The Cascos model C-443 is exactly the same as the C440 in build quality but has been fitted with longer and wider platforms.
This model is designed to have an extremely low drive-on height of 130mm
However if the C-443 is not the size you require, the range includes models with longer platforms up to 7 metres and heavier lifting capacities up to 12000 kgs.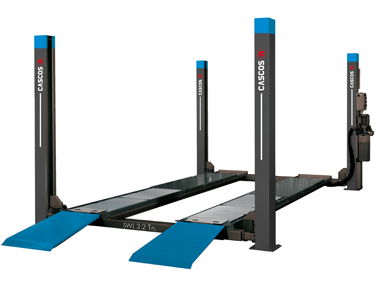 £6,285.00 + vat fitted.
Lease / Buy for £30.45 + vat per week, figures based over a 5 year period.
Product Description:
The Cascos C-443 four post lift is a smooth platform service lift, surface mounted onto the workshop floor, with run up ramps to the front drive-on end and the operating post mounted on the front offside post. (drivers side front)
The C-443 is extremely compact in its overall dimensions and is suitable for lifting, servicing and repairing of passenger cars and vans.
Design features:
Extra strength platforms with double "lintel style" beams.
Practically impossible to deform
Positively flat platforms
Double safety system, mechanical safety bar, pnuematic safety rack
Levelling alert light should the platforms go out of alignment
High quality guaranteed hydraulics, built at Cascos factory
Manual lowering valve in the event of power failure
Adjustable speed of lift for lighter loads
Flow regulation valve that achieves smooth operation regardless of weight
Thermal protection overload on drive motor
Safety system located on crossbars that will cut out in the event of cable breakage, cable slack, voltage drop, loss of power or underside obstruction.
ISO-9001 Quality Assurance Certification amongst others
Overall Dimensions & Specification.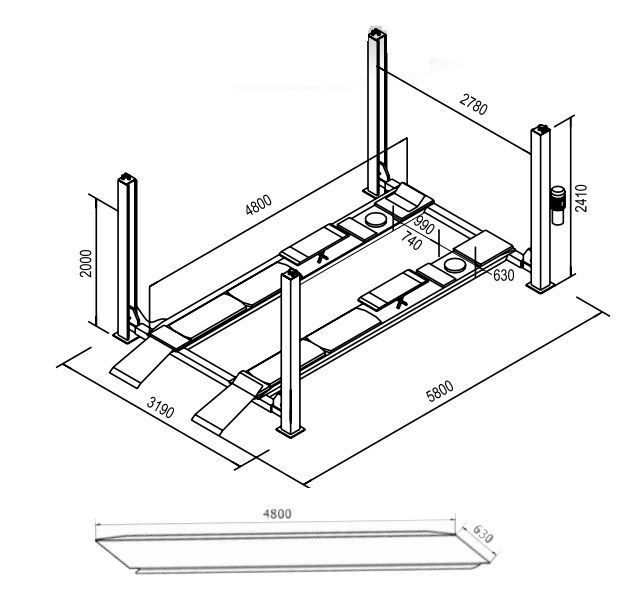 Lifting Capacity
Lifting time loaded
kg
secs
4.000
40

Lifting height
Overall height to top of posts
Fully installed overall width
Fully installed overall length (includes drive-on platform)
mm
mm
mm
mm
2.000
2.410
3.190
5.800
Drive-on platform height, lift lowered
mm
130
Platform width
Platform length
mm
mm
630
4.800
Distance between posts
mm
2.780
Adjustable internal platform distance
(adjustable track as standard)
mm
740 - 990
Power 3-phase
kW
3.0
Power supply
V/Hz
400/50
Fuse protection
Amps
16 - slow blow
Overall Weight when assembled
kg
1150
| | |
| --- | --- |
| | "Click here" to download brochure |