VTEQ 5000 Roller Brake Tester

13 tonnes Axle Weight

for cars, vans, PSV and HGV's.
The VTEQ BRAK5000 Roller Brake Tester :
Supplied with Manufacturers 3 Year Warranty on all components.
(subject to regular calibration and maintenance being effected).
Note : All our quoted Prices include delivery, installation and tuition at your premises.
The BRAK5000 Roller Brake Tester is manufactured by VTEQ in Spain.
Special care is taken in the selection of all materials and processes for the manufacture of this Heavy Duty Brake Tester. VTEQ are aware of the importance placed on this type of equipment wanting to ensure reliability, durability and repeatability throughout its working life.
The BRAK5000 is HGV/ATF DVSA approved, and offers as standard all the below features required to carry out commercial brake testing :
13 tonnes axle capacity.
Roller Lock for easy entry/exit to and from rollers.
Soft Start motors for longevity of components.
Bi-directional rollers and operation.
4 Wheel Drive operation.
Automatic Weighing.
Heavy Duty Nord Motor & gearboxes.
Robust work station, console controller.
PC package complete with 23" Monitor.
In-Cab Tablet operation.
DVSA database.
Available from £19,850.00 + vat, delivered and installed.
or £96.20 + vat, per week (£416.85 + vat, per month) on our 5 year Lease/Buy scheme.
Note : Final Price depends on specification chosen
Other options include :
Space saving console/controller.
Retrofit, Shock Absorber tester.
Retrofit, Side Slip Tester.
Contact us now for a Quotation : 01603 781999 ask for Carl Brighty

Very neat installation into your Workshop.
| | |
| --- | --- |
| State of the art electronics. | Robust controller / Cabinet. |
Supplied as standard with in-cab display tablet.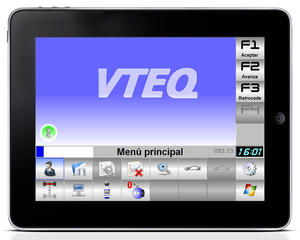 Supplied as standard with in-cab display tablet.
Once the wiring is complete the unit can be started and calibration completed.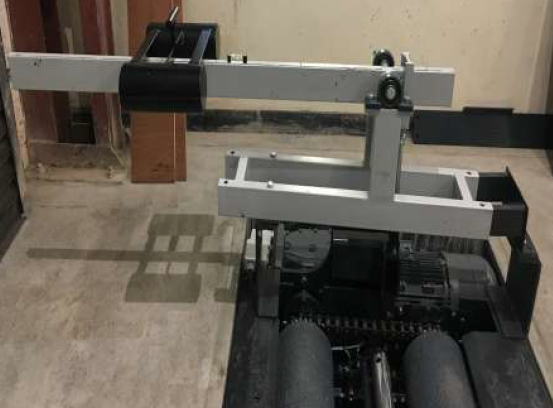 Calibration & Maintenace contracts available.
Want an easier installation for your builder?
Why not ask about an installation cassette box.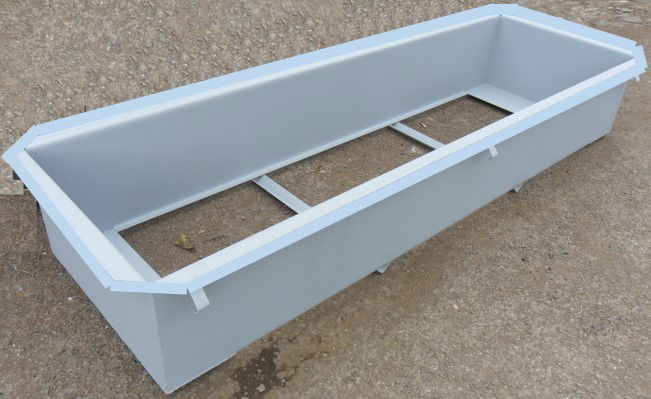 Overcome all the complexities of ensuring the hole size is correct.
Speed up the installation time from start to finish.
Technical / Dimensions :
BRAK 5000 - 13 tonnes axle weight

Heavy Duty and Light Duty Vehicle - Roller Brake Tester

Overall dimensions pit units
2 x 1.000 x 1.560 x 325 mm.
Weight per pit unit
2 x 400 Kg.
Maximum Axle Weight
13.000 Kg.
Dimension of each roller
990 x 206 mm.
Dimension between Rollers
450 mm
Brake Test Speed
2,5 - 3 Km/h
Motor size
2 x 7,5 kW / 2 x 9 kW
Friction Coefficient
Dry > 0,8
Humid > 0,6
Measurement Range
0 ÷ 30 kN
Power Supply
3 phase, 400V - 50 / 60 Hz
Working Conditions
Temperature -5 ÷ +40ºC
Relative Humidity < 95%

The Company :
VTEQ, founded in 2001 by personnel with extensive experience of Vehicle Testing Systems from around the world. The factory in Barcelona, Spain is fully dedicated to the manufacture of MOT Testing Equipment and has a range covering brake testing of motorcycles, cars, vans, buses, coaches, trucks and HGV's.
The factory is a large modern facility, concentrating on the quality of products produced, reliability and repeatability of results; it exports to more than 70 countries worldwide.
Having its own in-house Research and Development department has been crucial to the success of VTEQ's products within the UK, when the DVSA brought one man testing lanes into use, VTEQ were there with the product and the software requirements.
Knowledge of the world market for testing of vehicles has enhanced the product dramatically, each roller brake tester supplied has its own I.P. Address for any future development needs, including software upgrades, problem solving, updating databases etc, etc.
Multitune has been installing the VTEQ range of equipment since the company started importing into the UK during 2002 and have been very impressed with their performance.
Short of Space ?
VTEQ offer space saving pedestal and wall mounted controller if required.
(Controller available in various colours)
Controller for Space-saving installation, for instance narrow testing bay.
Version - with pedestal for PC, keyboard and screen, with wall mounted controller.
(Note : Only one cable connects the controller to the pedestal)
See a Space-saver installed "Click Here"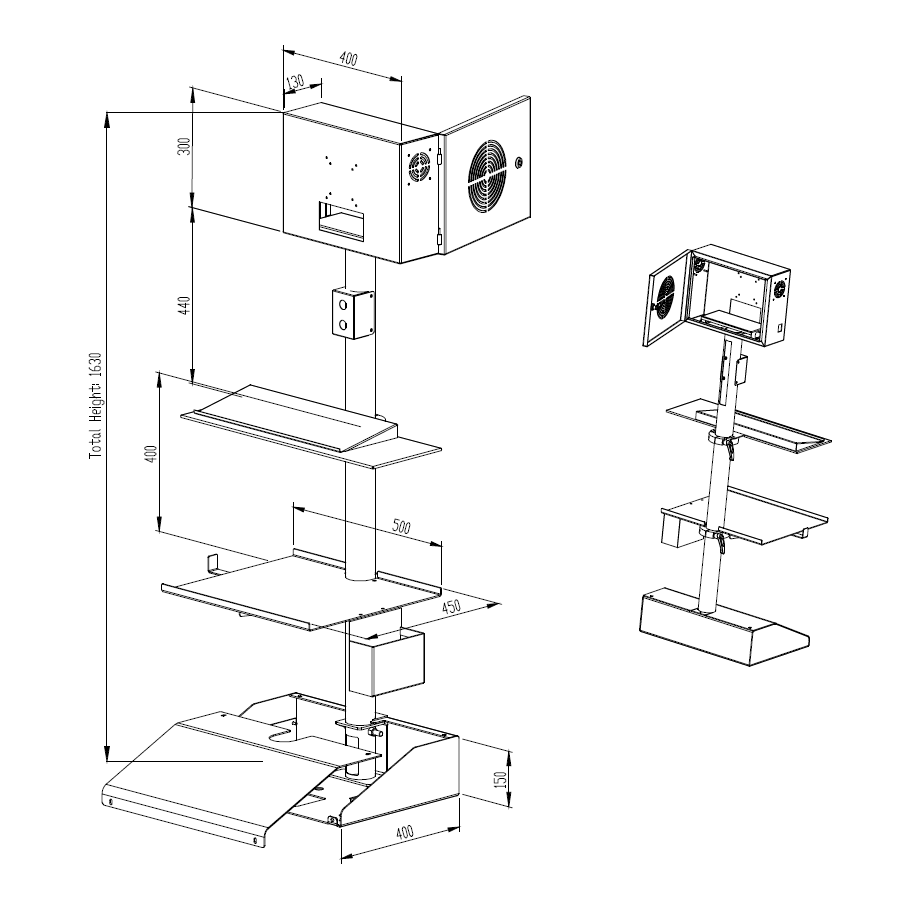 Pedestal Dimensions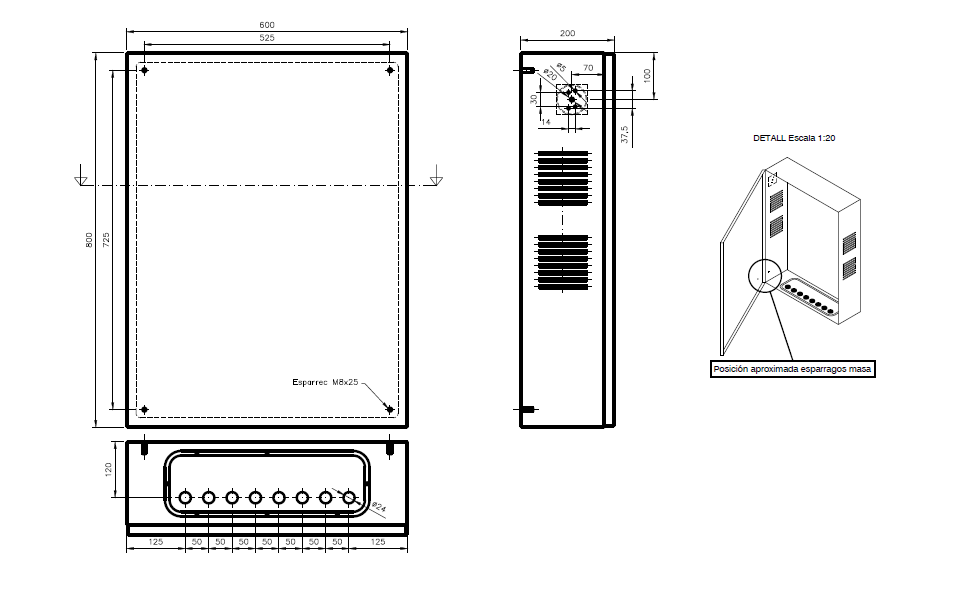 Wall mounted Controller dimensions.