VTEQ, are a Spanish supplier to Multitune, founded in 2001 by personnel with extensive experience of Vehicle Testing Systems from around the world. The factory in Barcelona is fully dedicated to the manufacture of MOT Testing Equipment and has a range covering brake testing of motorcycles, cars, vans, buses, coaches, trucks and HGV's.
The factory is a large modern facility, concentrating on the quality of products produced, reliability and repeatability of results; it exports to more than 70 countries worldwide.
Having its own in-house Research and Development department has been crucial to the success of VTEQ's products within the UK, when the DVSA brought one man testing lanes into use, VTEQ were there with the product and the software requirements.
Knowledge of the world market for testing of vehicles has enhanced the product dramatically, each roller brake tester supplied has its own I.P. Address for any future development needs, including software upgrades, problem solving, updating databases etc, etc.
Multitune has been installing the VTEQ range of equipment since the company started importing into the UK during 2002 and have been very impressed with their performance.
See below details of the Class 7 Model :
VTEQ BRAK3080, 1 Piece Roller Bed
High quality, durable and very capable are all qualities of this brake tester.
Fully Approved for use in UK testing stations by VOSA, DVSA and the GEA.
Can be ordered for standard MOT use or Automatic ATL Test Lane. (the only difference being supplied with or without weighing cells)
All VTEQ Roller brake testers are fitted as standard with "soft start" motors, soft start takes away that starting impact seen on other suppliers machines where the motor snap starts rather than soft start thus extending the reliability of sprockets, chains, gearboxes, motors and all the other components related to a hard working brake tester.
Also standard on the BRAK3080 is the in-car wi-fi tablet, 4 x 4 operation and automatic start assist enabling easy exiting out of the rollers.
Supplied with Manufacturers 3 Year Warranty on all components.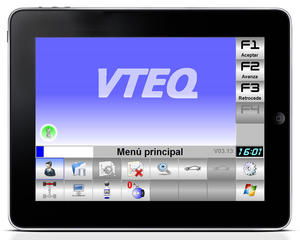 Supplied with in-car wi-fi tablet
In addition, there are a choice of different control cabinets giving the potential to cover all issues of where to locate the separate components of the brake tester, enabling it to fit into the narrowest of MOT Bays. (includes PC, printer, wi-fi in car tablet and remote control)
The BRAK3080 model is a single "one piece" roller unit VTEQ also manufacture a Split Bed model for installation either side of an inspection pit (Model 3011)

Make your installation easy :
If you require, Multitune can provide you with a one-piece manufactured in steel, cassette. Simply dig out the ground, install the cassette, connect the service duct, and pour the concrete. Ready for the brake tester to be installed by us.
| | | |
| --- | --- | --- |
| | | |
| Option of Steel one-piece cassette. | | |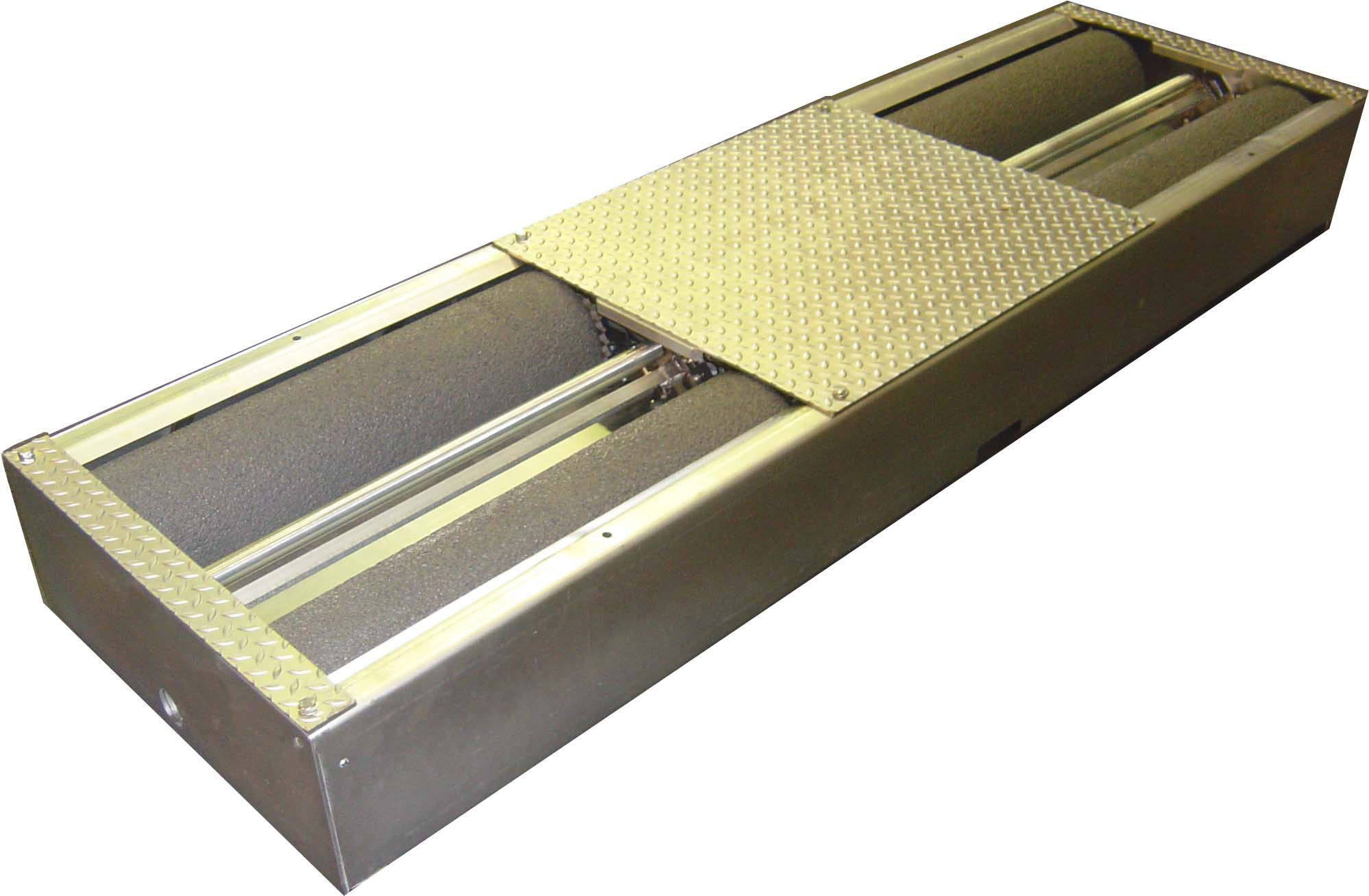 "Click on the Roller Bed above to see the brake tester in action"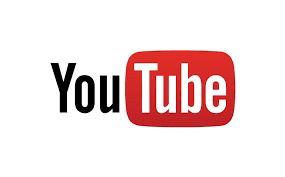 Class 7 Roller Bed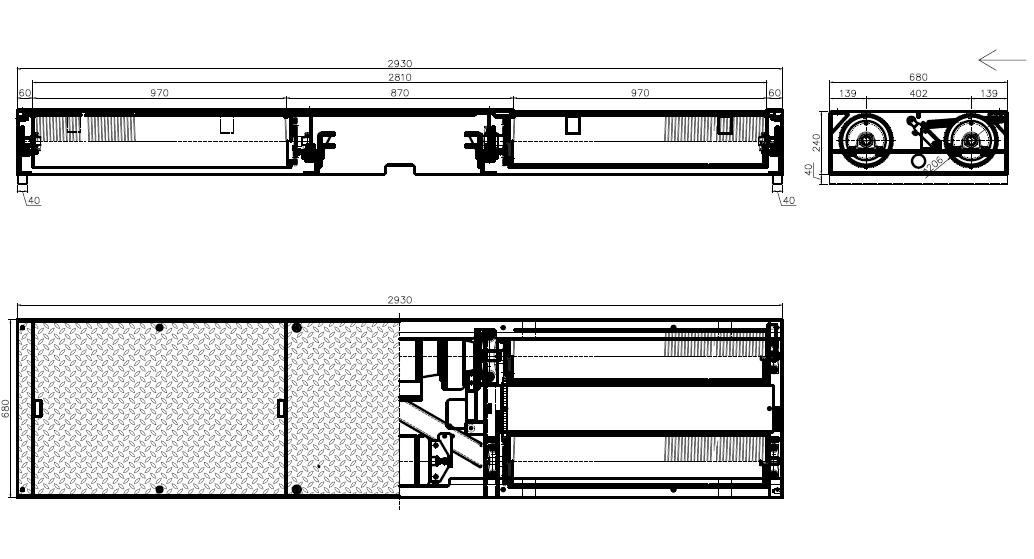 Roller Bed dimensions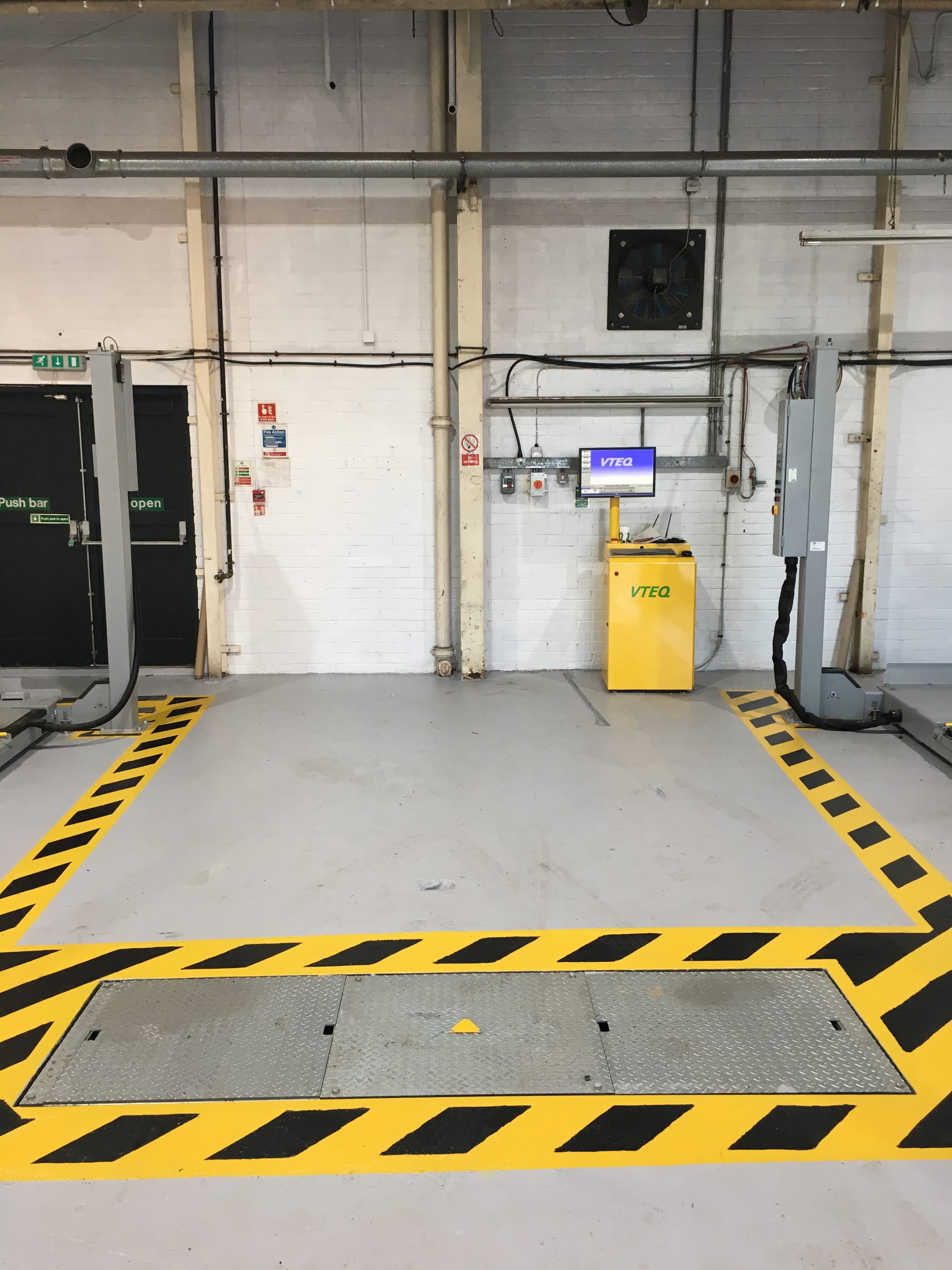 One piece galvanised pit roller unit installed.
Specification :
BRAK 3080 - Class 7 Roller Brake Tester (one-piece bed)

Car & Van Roller Brake Tester 6 tonne axle capacity.

Overall Diameter of Pit unit (1 pce)
2.920 x 680 x 280 mm.
Overall Weight of pit unit
600 Kg.
Track Width
860-2.800 mm
Maximum Axle Weight
6.000 Kg
Rollers Size
990 x 206 mm
Rollers Separation
400 mm
Test Speed
5,4 Km/h
Motors
2 x 5,5 kW
Friction Coefficient
Dry> 0,8
Humid > 0,6
Measurement Range
0 ÷ 12 kN
Power Supply
3 x 400V
50 / 60 Hz
Working Conditions
Temperature -5 ÷ +40 ºC
Relative Humidity < 95%
Standard Control unit incorporating electronics and PC unit.
(Controller available in various colours)
Controller for Space-saving installation, for instance narrow MOT Bay.
Version - with pedestal for PC, keyboard and screen, with wall mounted controller.
(Note : Only one cable connects the controller to the pedestal)
See a Space-saver installed "Click Here"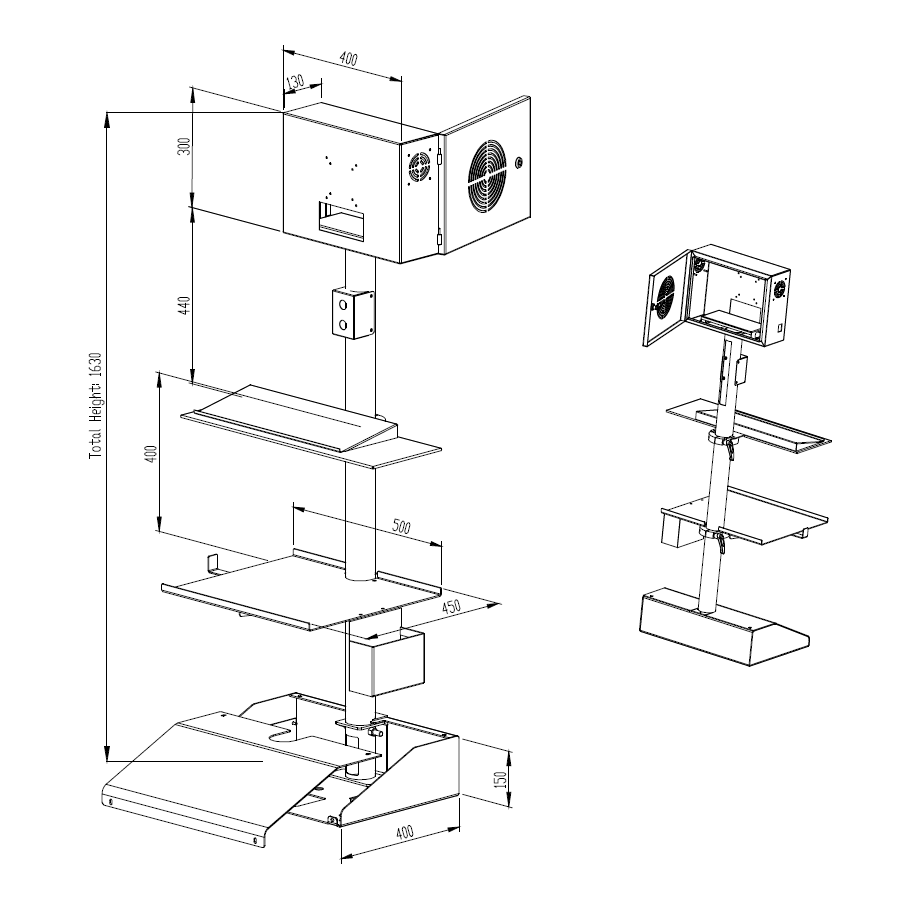 Pedestal Dimensions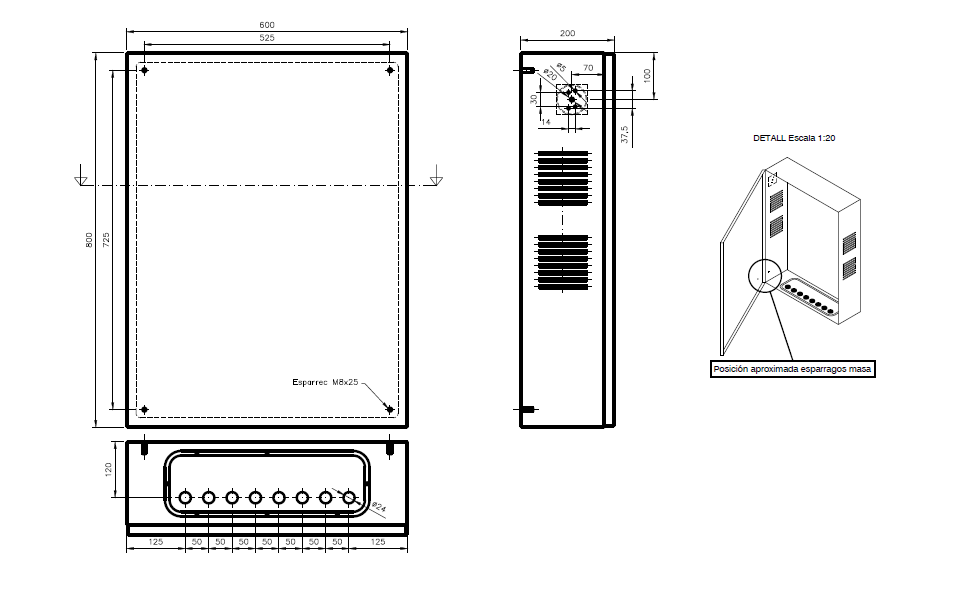 Wall mounted Controller dimensions.
Features of VTEQ Equipment :
VTEQ's own manufacturing & designs with software working under Microsoft Windows OS.
Microprocessor control.
Fully automatic in operation.
Prepared for connection and expansion of external equipment (** modular design). (**suspension Tester & side-slip tester can be added at a later date)
Security systems before, during and after the test.
Soft starters and other elements to ensure the durability of the components.
Variety of finishes on rollers
Variety of colours of the equipment controllers.
Only manufactured using high-quality components and brands.
** Expansion of external equipment :
** Shock Absorber and side slip testing can be easily added at a later date.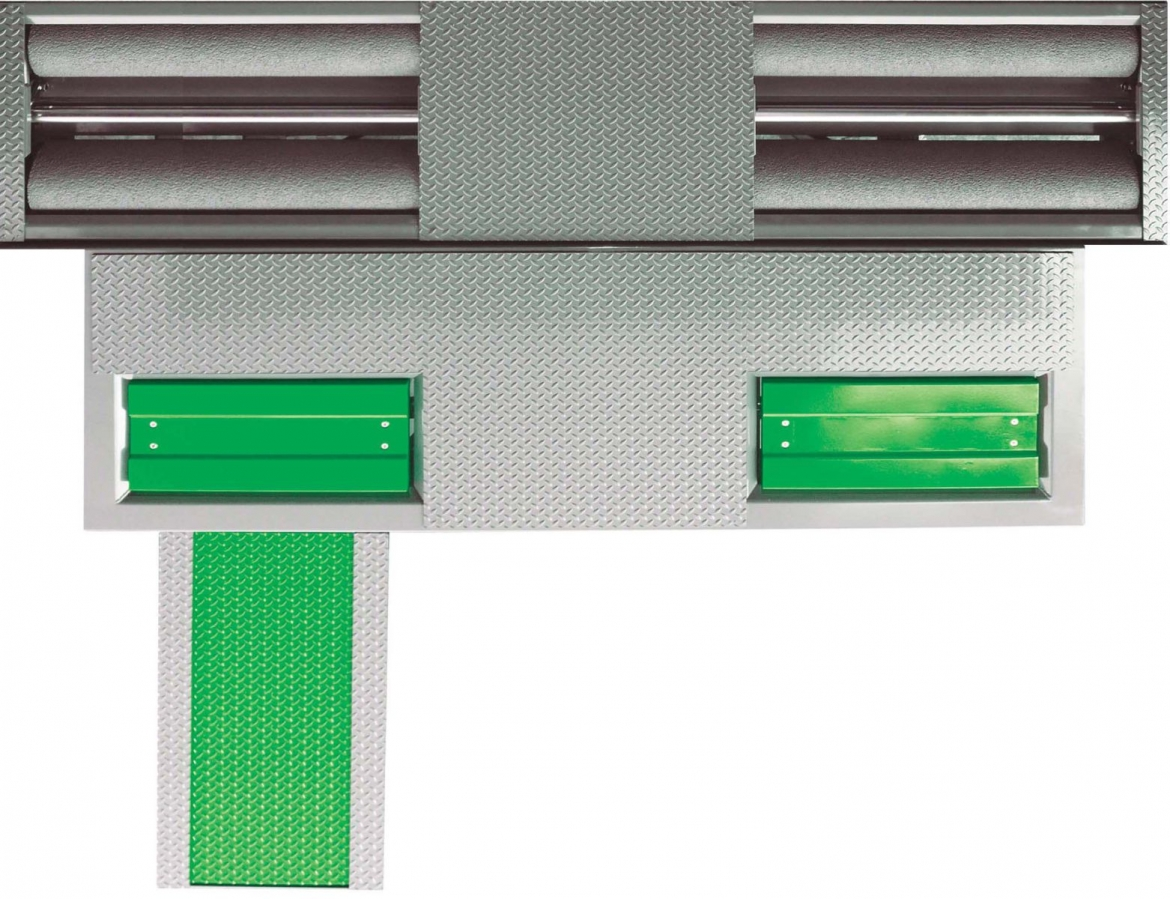 BRAK3080 with fitted options of Shock Absorber and Side Slip Tester.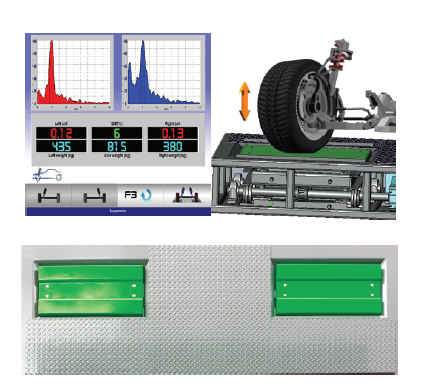 EUSA3080 Shock Absorber Tester (option)
Not yet a requirement in the UK, but already in operation extensively across Europe.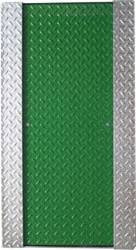 SLIP3080 Side Slip Tester (option)
Not yet a requirement in the UK, but already in operation extensively across Europe.
3 Years Manufacturers Warranty.
(subject to regular calibration and maintenance being effected).
Note : All our quoted Prices include delivery, installation and tuition at your premises.