Introduction:
An investigation into the death of a motor mechanic, following a car falling from a two-post vehicle lift, has identified a serious risk. Investigations found that the arm locking mechanism of the BendPak two-post lift did not prevent the vehicle from falling.
The safety alert is aimed at users of BendPak two-post vehicle lifts to prevent the situation being repeated, and causing further serious injury or death.
ANYONE USING THE BENDPAK TWO-POST LIFT SHOULD ACT NOW.
Users should check the arm restraint gear on their lift and, if affected, take immediate action to replace parts as detailed below.
An unknown number of BendPak two-post vehicle lifts have been supplied with arm restraint gears which allow complete dis-engagement from the arm locking mechanism, located on the carriage of the vehicle lift.
Also, in some of the lifts, the arm restraint gears are manufactured from a material that is insufficient to withstand the forces which satisfies the testing required by the harmonised standards relating to vehicle lifts. The current standard is BS EN 1493:2010.
The manufacturer has now redesigned the arm restraint gear. The new design is a machined part using a grade of steel which was found to be suitable when tested by the manufacturer. The gears now have circular rather than oval holes and a wider cross section which prevents disengagement.
Lifts which have not been supplied with this re-designed part still present a serious risk.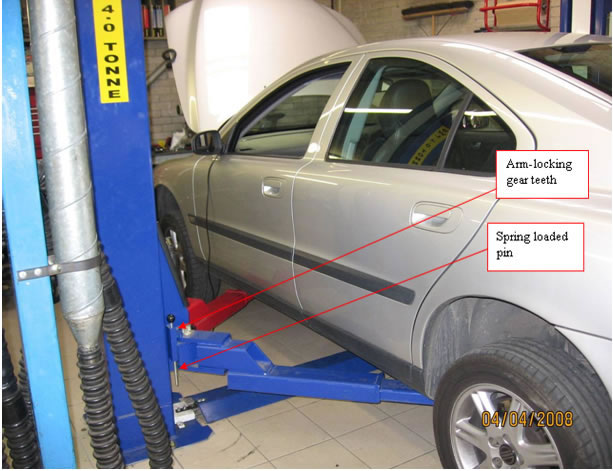 Action required:
Users of BendPak two-post lifts should:
1. Check
Users should check whether their arm restraint gear appears substandard. Lifts not supplied with the re-designed part will have arm restraint gears with:
oval holes
a narrow cross section
an internal diameter much larger than the pin that the arm swings on.
the appearance of being sintered or cast, rather than machined
Note
If checks show that there is lateral movement in the arms then the lift should not be used again until the necessary replacement parts are fitted. As a temporary measure, it may be possible to continue to use the lift prior to replacement if a competent person has confirmed that the gears are fully meshed and regular checks are being carried out.
2. Replace
If the lift does not have the newly designed arm restraint gear take immediate action to replace it.
Users should contact their supplier, or the manufacturer, to get replacement parts. The gears should be steel, machined with circular holes. They should sit properly against the pin that the arm swings on without visible clearance.
BendPak have provided a video which demonstrates how this replacement can be carried out by a competent person

.
3. Thorough examination by a competent person
Users should make sure that the lift is thoroughly examined and tested after replacing the gear. This is required in law under the Lifting Operations and Lifting Equipment Regulations 1998 (LOLER).
4. Maintain
Anyone using two post vehicle lifts should inspect and maintain them in accordance with the manufacturer's instructions.
Why do lifts have this issue?
Vehicle lifts are used throughout the motor vehicle repair (MVR) industry, including tyre and exhaust fitting centres. Two-post lifts have gained popularity over the last 20 years (they now outsell more traditional four-post lifts by over 3 to 1) at least in part because they have become available at increasingly lower cost.
Two-post lifts were originally used mainly for inspection and routine servicing (oil, tyre and exhaust changes etc), but are now commonly used for major work activities (though four-post lifts are still required for MOT testing).
Problems with the design, installation, use and maintenance of arm locking mechanisms continue to cause concern in newer machinery.
Vehicle lifts, including two-post lifts should be designed and manufactured in accordance with the Supply of Machinery (Safety) Regulations 2008. In particular, Schedule 2, Part 1 details the Essential Health and Safety Requirements (EHSRs) which should be followed. BS EN 1493:201 is a harmonised European Standard which can be used by manufacturers to demonstrate compliance with the EHSRs.
HSE's Science Division has carried out tests on one vehicle lift which was involved in a near miss incident when a vehicle fell from it. They applied horizontal loads to locked arms to check compliance with EN 1493 Section 5.8.5, which requires that arm-locking systems are designed to resist a force of 4.5 % of the capacity of the lift without permanent deformation, or to resist a force of 6.75 % of the capacity without breakage. The tests revealed that if the arm locking gears were only 75% engaged (e.g. 15 mm over 20 mm depth) there was a dramatic reduction in the load required to cause failure (from about 230kg to 50kg).
A horizontal load of 50 kg could easily be applied by a person working on the vehicle (e.g. using a tool to remove a tight bolt or changing a light box) and the weight of the vehicle can also induce a horizontal load if a support pad is not perpendicular to the jacking point.
Although there have only been a limited number of HSE Science Division tests to date, they indicate that full engagement of arm locking gears is crucial. Failure to ensure full engagement of the locking mechanism can result in a vehicle falling from the vehicle lift and if persons are in the vicinity result in fatal or life changing injuries.
The designers, manufacturers and suppliers of this equipment are reminded of their duties set out in the Supply of Machinery (Safety) Regulations 2008 and by Section 6 of the Health and Safety at Work Act 1974.
Please, if you know of a colleague who may be using this make/model of equipment, pass this information on to them.
Carl Brighty
Multitune GE Ltd