Class 3 & 4 MOT Testing equipment :
As with all MOT Bays Approved by the DVSA you will need a building of the right dimensions including working height, length and width.
In addition you will need the right equipment for the type of vehicles you are wanting to test.
Whilst filling out the VT01 Application Form you will require a layout drawing of the proposed bay and you will need a qualified MOT Examiner and Station Manager.
All the above infomation can be found in the information below, Multitune GE would be prepared to complete your layout drawings once a deal was agreed between us.
Please read through all our information provided, once you have done so, if you have further questions or queries you can fill in the "Contact Us" section or if you prefer give us a call on Telephone : 01603 781999.
Do I have the right space for the vehicles I am testing?
Am I testing one-man testing (ATL Lane) or two man testing?
What equipment will I require to meet these standards ?
Equipment :
1. Roller Brake Tester - automatic or manual
2. Four Post Lift, Scissor Lift or Inspection Pit with Jacking Beam
3. Wheelplay Detectors if ATL - Automatic Test Lane
4. Headlamp Aligner & Rails - standard or laser
5. Diesel & Petrol emissions analyser
6. Decelerometer
7. Signage Pack & Ancillary items
Roller Brake Tester roller bed

Choice of :
Free standing spacesaver controller



or full size controller
Four Post lifts

Available in various lengths and lifting capacities

Wheelplay detectors in lifting platforms

Remote control handset.
| | |
| --- | --- |
| Headlamp Aligner & Rails | Combined Diesel & Petrol Analysers |
| | |
| --- | --- |
| Jacking Beams - manual or hydraulic | MOT Bay - Ancillary package |
Note : All equipment supplied by Multitune GE is on the DVSA's List of Acceptable Equipment.
1. A calibrated roller brake tester :
| | |
| --- | --- |
| Roller Brake Test controller Available in different options and colours to suit your requirements. | High Quality and easy to access roller beds for simple maintenance and calibration procedures. |
VTEQ BRAK 3000 Car & Light Van Roller Brake Tester 4 Tonne axle capacity.

Specification :

Diameter of roller bed (1 piece)
2.320 x 680 x 280 mm.
Overall Weight of roller beds
480 Kg.
Min/Max Track Width
780 ÷ 2.200 mm
Maximum Axle Weight
4.000 Kg
Rollers Size
723 x 206 mm
Distance between Rollers
400 mm
Brake Test Speed
5,4 Km/h
Motor Power
2 x 4,6 kW
Friction Coefficient
Dry > 0,8
Humid > 0,6
Measurement Range
0 to 6 kN
Power Supply
3 phase, nuetral and earth
400V 50 / 60 Hz
Working Conditions
Temperature -5 to +40 ºC
Relative Humidity < 95%

A truly reliable machine.
We have been selling the VTEQ range of roller brake tester for many years.
VTEQ are a Spanish Company specialising in brake tester manufacturing, we like their products due to their high quality build and lasting reliability in the MOT Bay enviroment.
Years of manufacturing gives VTEQ experience of the market so this roller brake tester has a proven updateable software package with its own Ethernet connectability. In addition it has "soft start" motors, another first for VTEQ. Soft start gives as the name suggests, when starting the brake tester motors there is no suddern jerk, just a smooth uptake to roller testing speed. Major benefits of this feature are minimal wear and tear to components such as chains, sprockets, dampers load cells and the other components related to a brake testers build. Standard with the VTEQ rollers is bi-directional testing, the ability to test 4 X 4 vehicles and the option to add motorcycle testing software, suspension testing hardware and side-slip giving confidence of changes to the MOT Test Lanes of the future.
For the MOT Lane with minimal access around the equipment VTEQ offer a choice of cabinets and control units, handheld tablet control from the car, large wall mounted TV Screens and the choice of floor or wall mounted controllers, theres a set-up to suit all needs.
All machines have a remote control wireless handset, PC and Printer as standard.
2.

A method of underside inspection, being a four post lift or inspection pit.
Four Post Lift with Wheelplay Detectors

VTEQ Classic 4EX : 4000kgs lifting capacity four post lift with fitted recessed hydraulic wheelplay detectors and turning plates with remote control.
The VTEQ Classic EX is of a proven design, reliable and very robust and seen in many testing stations around the UK. The very slim design allows a fully lowered height of 152mm to the top of the platforms and an overall width of 3200mm including the power pack.
(Can be supplied as recessed in-floor or surface mounted with run-up ramps)
The platforms on this lift are 4700mm long and 560mm wide so an excellent choice when testing small vans in the Class 4 catergory.
Electro hydraulic in design with lifting cables and below platform hydraulic ram. Fitted full electronic safety locking/unlocling device for lifting and lowering procedures.
Inspection Pit with Wheelplay Detectors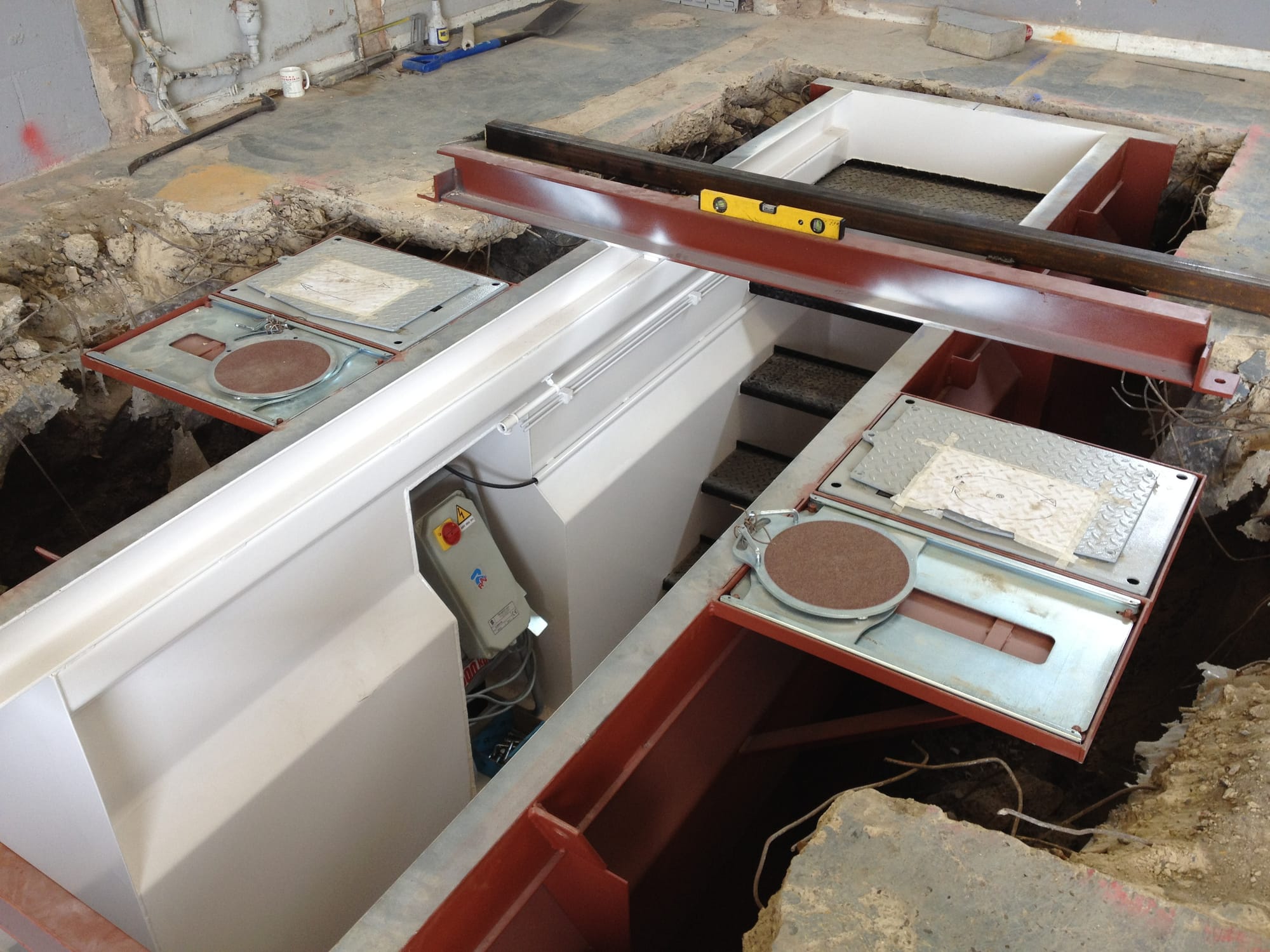 It's quite possible that your choice of equipment may include the use of an Inspection Pit.
Low ceiling height, planning stipulations on the building and existing building are all reasons for choosing a pit over a lift. Do not be too concerned, we manufacture one-piece steel pits to our customer requirements. They are light, bright and fully waterproof, fitted with low voltage lighting, low voltage power supply, compressed airline, jacking beam rails, floor sump, walk in steps for easy access and emergency escape ladder. When supplying a customer with a working pit we usually supply the steel frame for their choice of wheelplay detectors and turning plates.
Jacking Beams
| | |
| --- | --- |
| Manual hydraulic Jacking Beam | Air hydraulic Jacking Beam |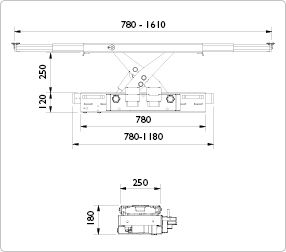 AC Hydraulic Jacking Beams.
Exceptionally well manufactured in Denmark to the highest of standards and suitable for your inspection pit, four post lift or scissors lift due to the comprehensive range of support arms and adaptors. Hand Operated or Air Hydraulic models and suitable for cars and vans.
Quick and efficient lifting due to manual double acting pump
Low closed height of only 180 mm makes it suitable for vehicles with a low clearance
Flexible top support beam can be extended up to 1610 mm
Unique height adjustable support arm system – designed to fit all current lifts and pits
Two-hand lowering operation with dead man's release, automatic safety locking device and overload valve for optimum safety
Supplied with 3 extension sets (10/40/85 mm) rubber cushion for protection of car body
4. Headlamp Aligner & Rails
Manufactured in various colours

Choice of Standard or Laser headlamp aligner.
Integral fixed aiming screen.
Internal analogue LUX meter for accurate light intensity measurements. Option of Laser model if preferred.
Suitable for all types of vehicles including motorcycles, cars and light vans.
Supplied complete with 4.5m of rails, instructions and a Certificate of Acceptance from the DVSA.

5. Diesel & Petrol Emissions Tester




Premier Diagnostic Diesel & Petrol Emissions Tester

Accredited to latest Euro 6 standards
Ideal for checking vehicles compliant for low emission zones
Designed for global PTI/ATF/MOT emission
Fully compliant with UK & EU Roadworthiness Directive 2014/45/EU
DVSA approved for MOT Testing Staions Class 4, 5, 7.HGV, PSV, RPC, SVA & LFZ
Colour monitor and a solid-state PC (offering the flexibility to run your own programmes)
The Diesel DS2 Smokehead incorporates automatic calibration with every test. (No more filters to lose or break)
Automatic gas bench self-draining system
The Diesel DS2 Smokehead will operate down to -15C in all weathers and has a 100 metre range from its workstation
Designed to complement the modern MOT test station for now and the future.



Premier Combi Designed, manufactured and built in Banbury, Oxfordshire in the UK.
The "Combi" machine is certainly the market leader when it comes to everyday reliabilty. If all you want to do is test the emissions without fuss, this is the machine to choose. Premier Diagnostic are renowned for being the first to introduce Cableless Smokehead technology worldwide. Includes 24 Months Warranty and Calibration as standard.

6. A Decelerometer
One of the DVSA requirements for all UK Testing Stations is the requirement to have available a portable brake tester, hence allowing testing on the road of permanent drive 4 x 4 vehicles etc.
Bowmonk BrakeCheck.

The Bowmonk BrakeCheck is our chosen self-contained, user-friendly, portable brake tester, used by many workshops, government traffic authorities and Authorised Test Facilities (ATF's)

Used to record the braking efficiency and percentage of braking imbalance of "all classes" of vehicle from a Motorcycle to an HGV, in a matter of minutes.

Designed to be self-compensating, the instrument will indicate on the LED screen when it is positioned level enough to perform a brake test, with a generous tolerance to ensure that this is easy to achieve.

Test results can be viewed on the display panel or downloaded to a PC for saving or printing. A printed report can also be produced at the time of testing using the portable infra-red printer and can be purchased as a kit in a handy carry case.

Note : The Brakecheck device operates on a rechargeable lithium-ion battery pack and will power-down after a period of inactivity to conserve energy.



7. Ancillary Tools and Notice boards.
The DVSA will require you to have in place, full signage, small tools, mirrors and other necessary items to enable your MOT Bay to be operational, Multitune will supply these items as a full ancillary package.
| | | |
| --- | --- | --- |
| Pry bars and other required tools | Tyre tread depth gauge | Corrosion assessment tool |
| | Tyre pressure gauge | Inspection Lamp |
Typical MOT Test Lane - Layout drawing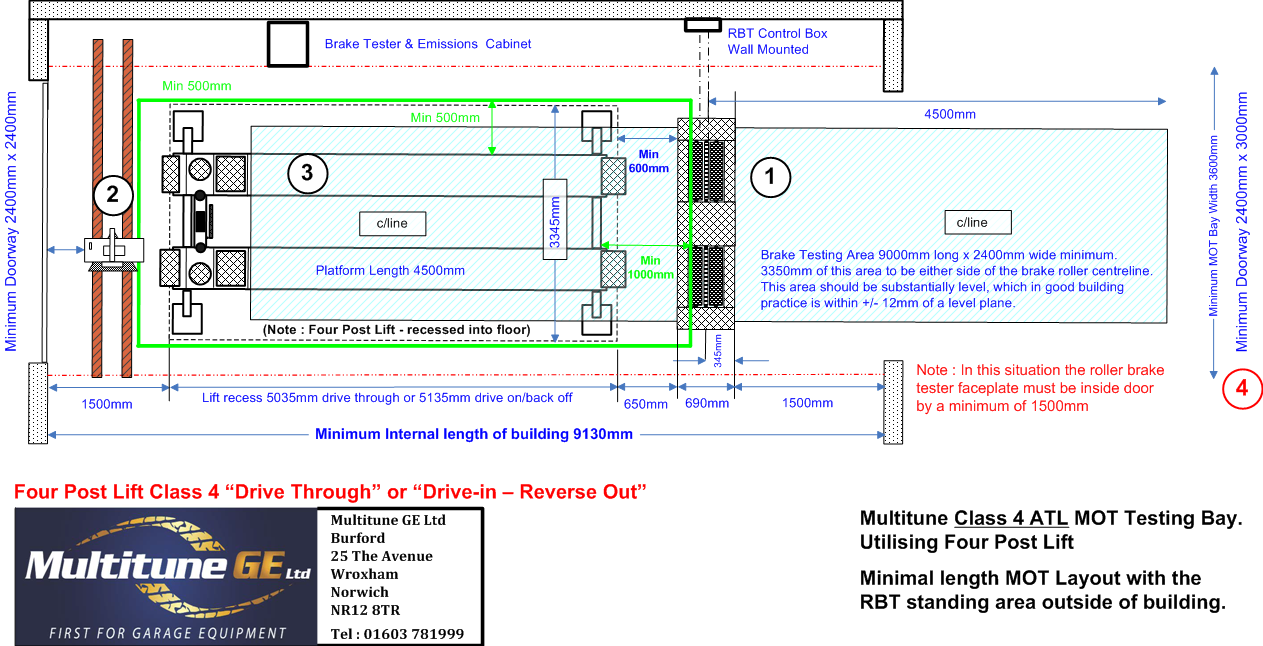 Information & downloads :
Find an MOT Tester or Managers Course :
A1 Exclusive Training Centre,
Unit B, 6 Claire Road Industrial Estate, Kirby Cross,
Essex,
CO13 0LY
Website : "Click Here" to visit website
E-mail : stevetandy@hotmail.co.uk
Phone: 01255 676767
Courses provided :
Level 2 Award in MOT Testing (classes 1 and 2)
Level 2 Award in MOT Testing (classes 4 and 7)