Hofmann Megalign Ssence 600 UHD-3D Wheel Alignment System.
The Ssence 600UHD from Hofmann Megaplan is a super advanced alignment system, fast simple and ideal for those customers looking to invest in the most advanced wheel alignment capability available on today's market.
The software has been designed to make life as easy as possible for the operator, minimising unnecessary procedures commonly found on other, similar systems.
You can be sure in the knowledge that this product once installed will guarantee you thousands of pounds in valuable extra revenue, in addition, by investing in the Ssence 600 your workshop will be up to date at the cutting edge of wheel alignment geometry.
A nice option with this machine is the megaTab portable handheld display.
The latest specification model now comes with :
New, more accurate HD cameras
Less light pollution due to sharper imagery
Works in a range of lighting situations including low light and 'glaring' sun
Most precise results
New, smaller, lighter targets
Now works with a greater number of lifts
Easier to position, easy to use
New, Updated interface with intuitive search function
Even less light pollution due to sharper HD images
Larger 32" monitor
Fully-Automatic camera boom
Latest Autodata database
Mechanical turnplates
Latest alignment technology
Special Offer Cash Price of £9,950.00 + vat.
or £48.20 + vat, per week per week based on a 5 Year Lease/Buy scheme.
Note : Offer Price with The Option of the megaTab portable display.
£10,850.00 + vat, or £48.20 + vat, per week per week based on a 5 Year Lease/Buy scheme.
Includes Delivery, set up and on-site training by specialist engineers.
Book a demonstration at your premises "Click Here"
Optional megaTab

7" portable display by Samsung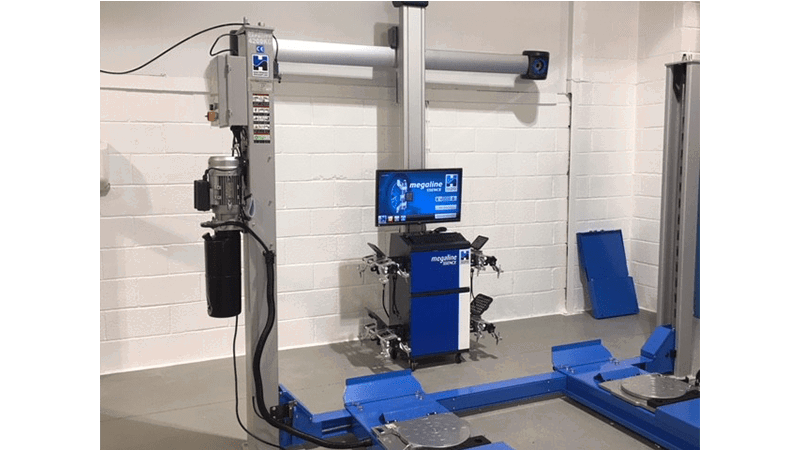 How much space do I need?
(See dimensions below)
What if I havent got a wheel alignment lift?
"Click Here" to see our range of Wheel Alignment Lifts.
Back to wheel alignment systems