The megaspin 2000 is, quite simply, the ultimate wheel balancer,
When you want the best machine for wheel balancing and rim/tyre diagnostic technology.
From the moment the wheel is loaded onto the 'Zero Gravity' lifter, which effortlessly allows the operator to raise and slide the wheel onto the shaft, essential data is retrieved in just seconds using sonar and lasers. Imbalance values, tyre conicity, rim and tyre eccentricity, and even tyre tread depth are just an example of the information that can be viewed on the touch-screen TFT display.
For those customers looking to solve vibration problems that conventional balancing doesn't achieve, then the megaspin 2000 is undoubtedly the simplest, fastest machine, and most ergonomic product ever designed.
Single phase power supply.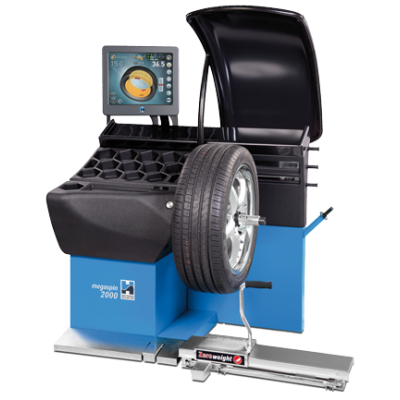 Megaspin 2000 "the ultimate"