The AC Hydraulic WTA500 Wheel trolley,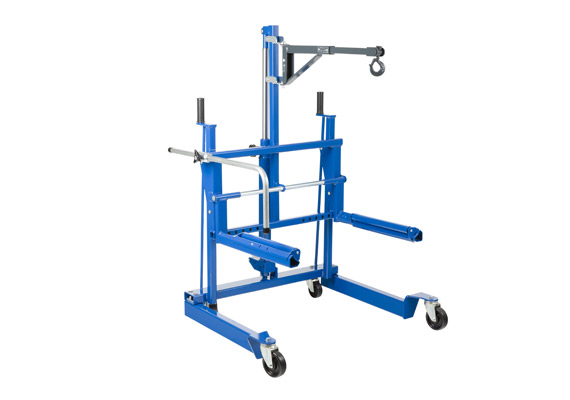 The AC Hydraulic WTA500 Wheel lifting trolley, is an exceptionally well manufactured and ergonomic lifter for the assistance of removing wheels and brake drums fitted to van, trucks, coaches and buses.
This model enjoys the following specification :
Flexible and ergonomic wheel trolley for the easy removal of wheels and brake drums
Adjustable lifting arms for wheel sizes Ø 270 – 1300 mm
Lifting arms with roller bearings for easy rotation of the wheel into correct position
Pedal operated pump leaving both hands free for working
Bracket for easy securing of the wheel whilst transporting
Hand operated dead man's release for optimum safety whilst lowering
Ideal for lifting brake drums, fuel tanks, tool boxes etc.
4 pcs of nylon castor wheels for optimum maneuverability
Shown with crane arm (accessory)




Shown with the Optional of lifting arm
Part No : 60 070 00



Technical data


WTA500



Weight

100 kg



Capacity

0,5 t



Height

1198 mm



Length

846 mm



Width

1150 mm



Roller-/fork length

415 / 600 mm



Roller distance

260 - 710 mm



Min. height

164 mm



Lifting height

710 mm



Wheel sizes

Ø 270 - 1300 mm

Selection of Accessories available, if required - see below :
Part No : 60 070 00. WTK - Crane Arm
Crane arm for disc brakes, calipers, drums etc.
Capacity: 250-100 kg
Mounted with the telescopic crane arm the wheel trolley is a universal lifting tool
The crane arm offers efficiency and good ergonomics when lifting disc brakes, brake drums, callipers, etc.
The crane arm easily swivels to one side to allow wheel removal operations to be carried out
Fitted with 360º pivoting hook
WARRANTY

Just as our products offer high performance and quality, so does our warranty. The immense amount of workmanship, testing, and precision engineering that each of our products receives enables us to maintain our high quality. Our long warranty is our way of showing you can trust our quality.

PROLONGED WARRANTY

Starting January 1st 2017 all AC products are covered by a 10 year warranty on frame, chassis, and steel structures as well as a 3 year warranty on the hydraulic system (pump and cylinder).

The warranty covers replacements of parts due to defects in material or workmanship. The warranty does not cover damage caused by accident, misuse, neglect, improper maintenance or normal wear and tear. We have made no changes in terms or claim handling. We simply trust our quality enough to extend the warranty to 10 year / 3 year.

USING A PIT JACK AS AN EXAMPLE

The blue parts are covered by a 10 year prolonged warranty, red parts are covered by a 3 year prolonged warranty.
Who are AC Hydraulics?
AC Hydraulics of, Viborg, Denmark.
AC Hydraulics is a family company established in 1958 by master craftsman Anker Christensen. Shortly after launching his handicraft and repair shop Anker Christensen was inspired to design and develop high quality lorry and workshop cranes. His original concept became the base of production and the AC crane was soon known in all of Denmark for its high quality.
Development of a wide range of lifting equipment soon took place and with the extended product range the company was ready to move into export.
Today all AC products are manufactured in a modern 10.000 m2 high-tech production plant consisting of robots, laser cutting machines and state-of-the-art CNC machinery.
They employ over 130 experienced and well-trained people who's dedication to the product is commendable, it goes without saying that they produce the best and most innovative quality products on the market today.
To ensure the constant high quality every product is fully tested before shipment, the company is certified according to ISO 9001:2000
AC Hydraulic A/S is a market leading brand with 80% of its production being distributed world-wide to more than 50 countries. Even today the company is managed by the 3rd generation, brothers and sole owners, Søren and Claus Anker Christensen.
Multitune GE Ltd are proud to distribute AC Hydraulics products in the UK.