The AC Hydraulic WTA500 Wheel trolley,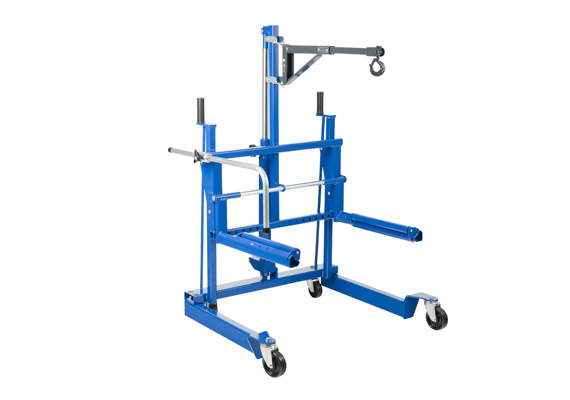 The AC Hydraulic WTA500 Wheel lifting trolley, is an exceptionally well manufactured and ergonomic lifter for the assistance of removing wheels and brake drums fitted to van, trucks, coaches and buses.
This model enjoys the following specification :
Flexible and ergonomic wheel trolley for the easy removal of wheels and brake drums
Adjustable lifting arms for wheel sizes Ø 270 – 1300 mm
Lifting arms with roller bearings for easy rotation of the wheel into correct position
Pedal operated pump leaving both hands free for working
Bracket for easy securing of the wheel whilst transporting
Hand operated dead man's release for optimum safety whilst lowering
Ideal for lifting brake drums, fuel tanks, tool boxes etc.
4 pcs of nylon castor wheels for optimum maneuverability
Shown with crane arm (accessory)




Shown with the Optional of lifting arm
Part No : 60 070 00



Technical data


WTA500



Weight

100 kg



Capacity

0,5 t



Height

1198 mm



Length

846 mm



Width

1150 mm



Roller-/fork length

415 / 600 mm



Roller distance

260 - 710 mm



Min. height

164 mm



Lifting height

710 mm



Wheel sizes

Ø 270 - 1300 mm

Selection of Accessories available, if required - see below :
Part No : 60 070 00. WTK - Crane Arm
Crane arm for disc brakes, calipers, drums etc.
Capacity: 250-100 kg
Mounted with the telescopic crane arm the wheel trolley is a universal lifting tool
The crane arm offers efficiency and good ergonomics when lifting disc brakes, brake drums, callipers, etc.
The crane arm easily swivels to one side to allow wheel removal operations to be carried out
Fitted with 360º pivoting hook